I think the current topo from Craglets for the Prow is a bit wrong, I think "The Prow" is the arete with the undercut base to the right of the marked routes, so Quadrella, Crank and Quartet must be numbers 2, 3 & 4 in the topo? Can anybody shed any light on this, and exactly where Gangabang goes?
The image that I will redraw the topo on is below, if anybody wants to draw lines on it and send it back to me.
The current topo is: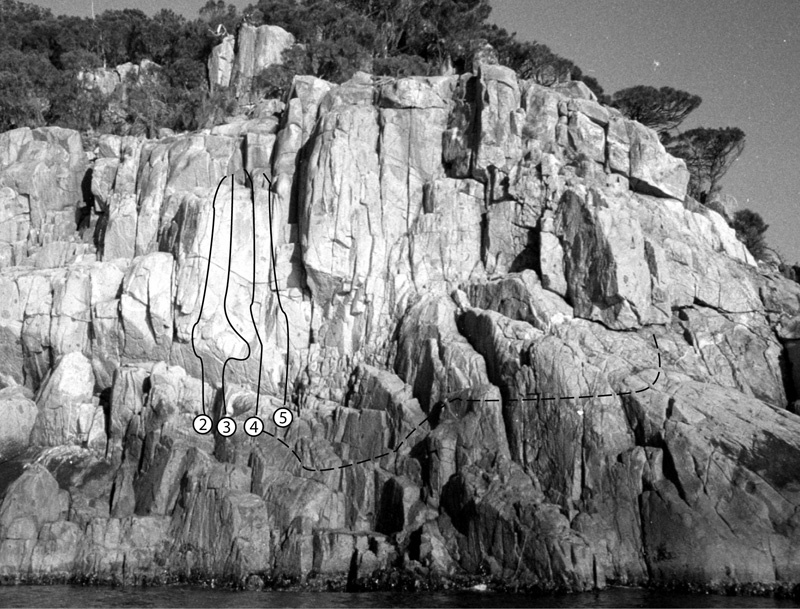 The routes described are:
The Prow
These routes are described in relation to the Prow, the prominent orange buttress on the point about 100m north of the Light Fingered Maddison wall. It is clearly visible from the top of White Water Wall. Best approached by walking down a gully just north of the Prow and then walking back along the shelves.
On the buttress south of the Prow, overhanging at the base with a slab on the right wall are the following (accidentally not marked on topo ):
Quadrella 18m 15
The crack on the arete, gained by climbing into the overhanging slot left of the arete and then stepping right onto the nose and up the arete. D, L.Stephenson, J, Marg Otlowski, Dec 90.
Crank 18m 20
Just right of the arete. Bouldery start and up the right diagonal crack. Back left to the horizontal break and up the seam just right of the arete. It's a bit contrived avoiding the easy crack on the left, but fun off the ground. D.Stephenson, J.Otlowski, Dec 90.
Quartet 18m 17
The slab right of the arete. Pull up on to the slab, climb to the horizontal break and head right up the ramp. D, L.Stephenson, J, Marg Otlowski, Dec 90.
2. The Prow 22m 20
The prominent orange capped arete, overhanging at base. Climb up to the left side of the buttress, move right, up the steep flake, to a stance on the nose. Climb a few feet up the left hand seam, step right across the slab, and follow the thin crack on the arete to the top. D.Stephenson, J & M. Otlowski, Dec 90.
3. Gangabang 22m 16
The wall right of The Prow. Climb a pillar and cracks to finish up thin cracks just right of The Prow arete (NB climbs marked 4 and 5 on topo don't exist). D.Stephenson, J & M.Otlowski, Dec 90.
The image for the new topo: