...
There is good skiing over the Eliza Plateau, however it is quite exposed. Its about 2-3 hours solid walk to gain the altitude. There are plenty of short lines on the plateau and potenitally some more serious ones dropping off the southern escarpment, although these look fairly commiting. The base of summit block can be reached in another couple of hours of easy skinning. While there are no feasible lines obvious routes down from the summit (for anyone who values their life) there are several truly spectacular lines that drop that don't require ropes) there is a truly spectacular line down the huge south-east facing bowl between Shelf Camp and the summit block. The most obvious of these This starts at the junction between of the summit track and the circuit track and heads steeply down towards into a stunning vertical sided chute just visible from the top. One Once inside the chute, which is dead straight and more like a slot canyon, you can continue on for several hundred meters. This is only achievable in excellent snow conditions.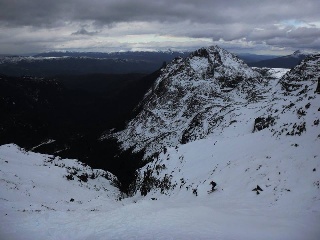 Image Removed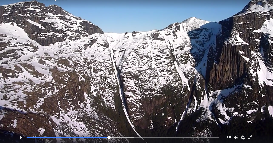 Image Removed
you can descend up to 300 vertical meters until you pop out into the forest below.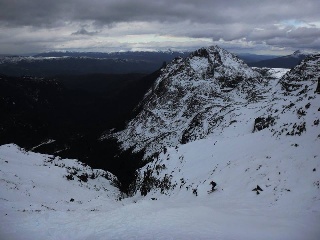 Image Added
Entering the chute.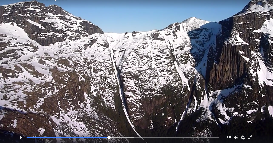 Image Added
The chute (centre) from the air, in decent winter conditions.
It also looks like there's a nice chute line directly below the summit block (the climber's descent route), which goes for a couple of hundred meters before it ends in cliffs.   
...